Want Us to Attend your Event?


Want Us to Attend your Event
Educators, Curators, Event Organizers, Scout Leaders, Veteran's Organizations,the 33rd Signal Construction Battalion Reenactors is a nonprofit educational organization that are available to provide a historical representation of the American Soldier at your next event. As a living history group, we participate in living history events,encampments and historical presentations for schools. By doing so we offer the public the opportunity to experience history first hand and a chance to interact and ask questions. For many veterans who visit these functions, we provide a valuable living reminder to the memories of their experiences overseas. We are also available to participate in educational programs and school events. We bring the history learned in the books, to life.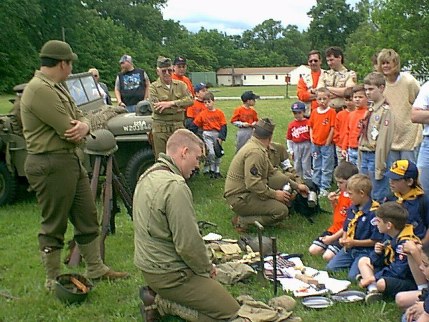 Some of the things we offer:

World War II Living Histories and Displays

Color Guards

Boy Scout/ Girl Scout Presentations

School Presentations and Discussions

Ceremonies

Parades

And Much More!!
But please let us know at least 2 months in advance, as we are a volunteer group who have real world responsibilities and we must work our schedules in order to attend your event. All of our services are free, but a donation to our organization is greatly appreciated.